Miami Beach 2nd Challenge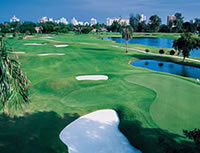 MIAMI, a Native American term (tribe of the Mayaimi) signifying fresh water (the city is surrounded by lakes and marshes), was founded in 1896 and is the leading city in Florida, in the south of the United States of America. The importance of the region as an international financial and cultural centre has raised Miami to the status of World City. Since it's a hub of cultural and linguistic ties between North America, South America and the Caribbean, it's also called "the capital of the Americas". Within Dade County, on the island that faces onto the Atlantic Ocean, stands the city of MIAMI BEACH. Founded in 1915, it has become the tourist city linked with luxury (the Art Deco Historic District of South Beach has been listed on the National Register of Historic Places, and with its nightspots and hotels is considered among the most glamorous places on the planet), centre of the luxury fashion of the US south, and takes its place among the most coveted spots on earth.
The MIAMI BEACH GOLF CLUB (the historic name was originally Bayshore Golf Club) was founded in 1923 by Carl Fisher, an American entrepreneur. Situated on the South Beach island nestled between the shores of the Atlantic and Biscayne Bay, it has been the scene of various events in American history: during World War II, it was turned into a base camp for military training exercises; in 1944 it risked becoming the site for a new residential area and was at the centre of an animated legal wrangle; in 1954 a new Club House was built; and in 2002 the entire course was restructured and the present Club House went up. The course, designed at the beginning of the century by architect Arthur Hills (one of America's most important golf course designers) is still very up-to-date and blends in perfectly among tropical palms and mangroves with the interior of the city of Miami Beach.
Miami Beach Golf Club 2301 Alton Road, Miami Beach FL 33140
Tel: +1 305 532-3350 – Fax: +1 305 532-3840 – www.miamibeachgolfclub.com