Abu Dhabi 1st Challenge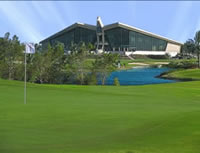 ABU DHABI or Abu Zaby (in Arabic stands for "Father of the Gazelle") is the capital of the United Arab Emirates, with more than 4 million inhabitants. The city stands on a T-shaped island in the Persian Gulf and counts as the world's wealthiest, with a GDP of US$ 162 billion in 2006; the Government of Abu Dhabi has planned to invest up to 150 billion dollars over the next five years. Among the objectives are: the development of luxury tourism for the inhabitants and international visitors (fashion boutiques with exclusive apparel and accessories, fine restaurants, yachts, cars, jewels, up-to-date accommodation, etc.) and the creation by 2015 of centres of culture of worldwide importance, including: the Guggenheim Museum designed by Frank O. Gehry, the Louvre by architect Jean Nouvel, the Marine Museum by Tadao Ando, and the Opera House by Iraqi architect Zaha Hadid.
The ABU DHABI GOLF CLUB, an oasis of tranquillity carved out of the desert sand in 1992, is managed by the American firm TROON®. The imposing Club House, built in the shape of a falcon with outspread wings, overlooks the course on all sides and gives full view of the all spectacular eighteen holes. Described as "Super Course" by the leading specialist periodicals in the golf world, with its 162 hectare area, the Abu Dhabi Golf Club is considered to be one of the finest 27-hole courses in the Middle East. Designed by architect Peter Harradine, former president of the European Institute of Golf Course Architects, the course plays annual host to one of the most awaited contests: the Abu Dhabi Golf Championship, watched by over 23,000 spectators from every corner of the globe.
Abu Dhabi Golf Club P.O. Box 51234 Sas Al Nakhl, Abu Dhabi, U.A.E.
Tel: +971 2 55 88 990 - Fax: +971 2 55 85 005 - www.adgolfclub.com